When I got the job and relocation offer to Ireland, I wanted to know if I can maintain the same quality of life that I had in Malaysia. I had to find a way to compare the cost of living in Malaysia and Ireland. It may seem straight forward, that moving to a western country would have a reasonable cost of living. However, moving with the family deserves a second thought on how to determine if we will live within the same standards. I am sharing the thought process to determine cost of living in this post and settling on the best method.
The whole though process for comparing cost of living is whether I would be able to "survive" in the new country based on the needs of the family. I know how much money I will make, also how much taxes and deductions taken away. The rents are roughly known through websites like daft.ie. After all that is taken away from my salary, would I still enjoy the same standard of living in my current country. On top of that, would I be able to save money to spend on luxuries like holidays?
Convert to local currency
The most basic method to measure cost of living is to convert the currency from Euro to Malaysian Ringgit. Take the income and expenditure in Euro, then compare to what I would be spending in Malaysia. This is where people say "you earn 5x more than MYR" in Ireland. Out of the box, this method is the least representative of the cost of living. In general, goods and services are cheaper in Malaysia than Europe although the salary converted will be higher.
Crowdsource Information
A better method would be to use what I call "dollar for dollar" comparison. There is a cost of living site called "Numbeo" that shows the difference of cost between countries. It provides an average cost of living such as food, transport and entertainment for every country. You can compare the cost of living for the country that you are going to with the country you are currently in this site. The way it compares between country is still converting to a common currency (in my case between MYR and EUR). I find that less useful to make a judgement on the cost of living
The better way to use Numbeo is to use the estimate cost of living in the local currency (EUR for Ireland). I will then estimate how much of my take home pay (after all the taxes and deductions) would be taken up for expenses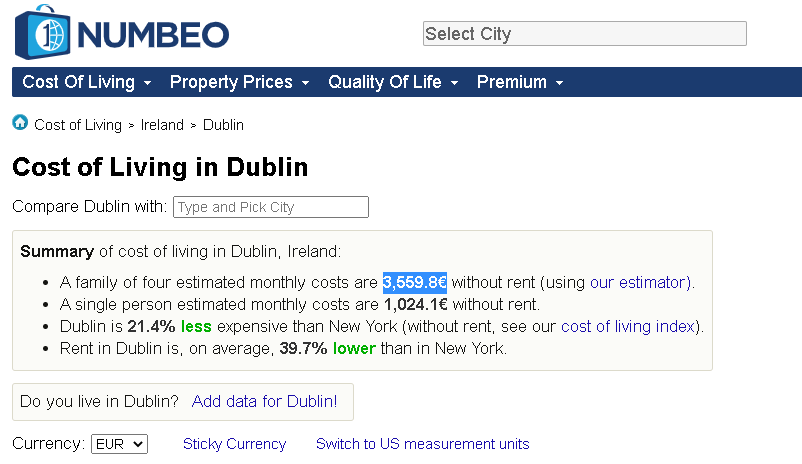 In the snapshop above from May 2022, my family would need about 3559 EUR to survive in Dublin. It is an expensive city and that does not include rent. The tool also allows you to customize your expenses, for us we don't have eat out that much so the cost is lower.
Days of pay affordability
By far, I feel the best way to measure cost of living is through "days of pay" calculation. I will compare the cost of buying something with the number of days or months I need to make with my salary. Take my example of buying a car. Assuming someone has a take home pay of 5,000 EUR in Ireland, an entry level second hand car cost about 20,000 EUR. That means I need to work 4 months to afford the car. You then compare how much a car cost in your home country and how much you are making to see whether there are similarities in the ratio
Different Vectors.
As I spent a lot of time looking through information to compare cost of living, there are inherent social and political differences that impacts the assumptions. In Malaysia, it is cheap to eat out for meals as we have hawker centers. In Dublin, eating out is an experience and cheap food means sandwiches. Therefore i would assume less eating out compared to Malaysia, where groceries are affordable in Ireland. Petrol is cheap in Malaysia but public transport is more affordable in Ireland. So I would assume to drive less and use more public transport. There is definitely a huge behaviour change when relocating to a new country. As much as I loved spicy food, Chinese / Asian food is more expensive than an Irish chipper, so I would have to adapt to the food.