2 more weeks to go till we board the plan to Ireland. Documented the mad rush on the first week and second week. Process and data accurate as of March 2022.
Banks
So far this week, it is another mad rush to handle issues related to banking and needs of money in Ireland. The relocation asked me to find out what banks I want to use. Banking in Ireland is reminiscent of the old days where they charge for withdrawals and also service charges to keep the account open. So it is important to make comparison. I used Money Guide Ireland to get to my decision.
Apparently the relocation people are trying to get an appointment for me to meet with the bank representative to open the account when I get there. Even with that, will probably take 15 days before I get the account. I think it is absurd that it takes that long to open an account, think how easy it is to open an account with Public Bank in Malaysia, pretty much on the spot.
Anyway, was discussing with the relocation person on how I should be paying for my rental and deposit. We had to get a house pretty much immediately after landing in Ireland as the process takes time. She was thinking that I would be able to get the Malaysia bank to transfer the money to Ireland once I have the bank account open. I told her about our 1MDB story and maybe Bank Negara won't allow us to do that. Well looks like I will have to carry 2 months worth of rent (one month deposit and one month rent) for the house in case the account and transfer don't happen.
So another new experience, to call money changer to ask whether they have that much money to change. Got one and he said can arrange in one week but need cash, no cheques. Gosh, the fear of carrying so much money from the bank to the money changer. Will see how that goes.
We also went to the banks on Monday morning to clear out fixed deposits and Gabriel's account that is used for the government to bank in his benefits. We are amazed that there's so much in his account, definitely getting some of the tax that I paid back. So we converted this money to Euros and he will get to spend it in Ireland.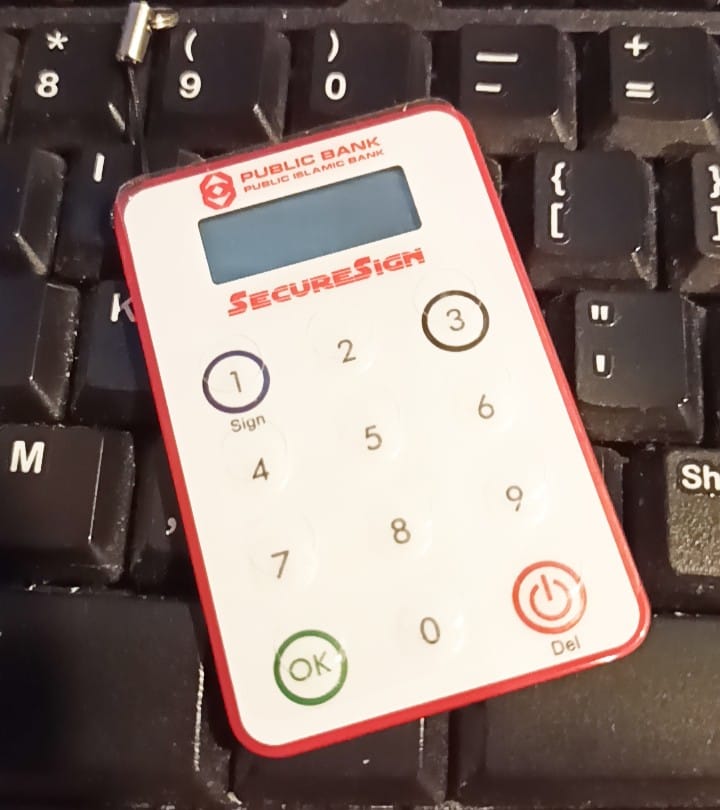 Today I learn that banks do give out these pin generator in place of TAC. The bank told is that they can only use Malaysia and Singapore cellphone number for TAC. Alternatively, they can give us this token generator in place of TAC. It's given free and will be replaced free if battery dies. Battery supposed to las 1-3 years and after that we need to come back to replace it. This will allow us to do online bank transaction without cellphone TAC. With this pin generator, apparently I can transfer up to RM50K remittance to Ireland online and can only be done during banking hours. With that, we don't have carry a briefcase of cash into Ireland.
Selling Assets
The motorcycle has been my primary work horse for the past 5 years. Gets me through traffic jam during rush hour before COVID. Nice ride to Kulim and Nibong Tebal, the furthest I've been with this machine. We have gone through many levels of sun and rain. Despite the size, I pay motorcycle parking rate in malls and ability to park free in most places. Bought the machine to be used for the long commute and I wish there could be many more years. Have to let it go today as I get ready for a new adventure. Ride to Hot Bike in Jelutong and managed to get RM17K for this. I bought it for RM27K about 5 years ago. I bought it to be used, not to be kept as an investment so I would say it was a good part of me in the past 5 years. Looking at the weather in Ireland, I don't think I will get a bike there. Not sure how to ride in the cold and wet weather. Was told there are some months that are good for riding but I need to justify to myself whether to get a bike that I cannot use all the time. I prefer to jump into a warm cabin of a car.