We have been living with basic furniture provided by the rental company since moving to Ireland. Lot of the things we packed in Malaysia will arrive soon, so we did not buy any furniture. I did not have a desk to work at home so I ended up going to work everyday. We bought enough pillows and light blanket for ourselves because the pillows from home are coming. We did not have TV or monitors and that caused a lot of anxiety with Gabriel because he could not play his game.
Well the sea freight finally arrived! The sea freight took 89 days from packing to unpacking. We were told there is a supply chain issue and it is very hard for the movers to secure an empty container. Unlike your parcel, there's no way to track where the container is after it leaves the port unless we ask the logistics company.
Sea Freight Arrives
The sea freight was paid by the company as part of my relocation package, so we packed even the low value items like chairs and plastic containers. We are now happy to get our appliances, stationaries, more clothes and the kid's bicycles so that we can at least live in comfort. I also now have a small corner that I can work from home with all the peripherals and monitors that I was using in Malaysia.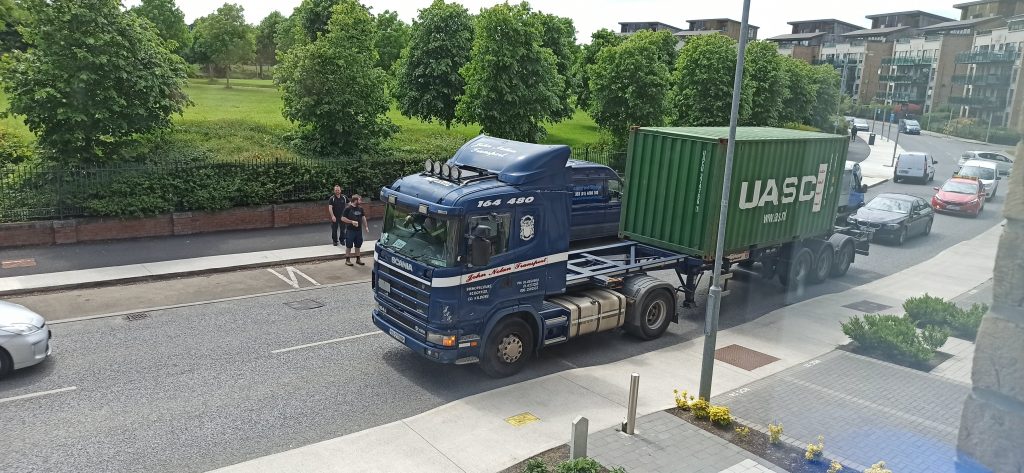 The items arrived in a container straight from the port. The movers had a 3 people who will unload the items, unpack from the boxes and then remove the boxes. This is much needed as the empty boxes took up the whole van, there's no way for me to throw away those boxes.
Setting up the TV
If you have a TV in Ireland, you need to pay €160 per year for TV license. Once our TV arrived, we did just that. Lucky it is easy to pay for the license online. (In general, I find that paying for services is very easy in Ireland through credit card or direct debit, then documents just get sent to your house).
7% of the total revenue net of An Post's commission is paid to the Broadcasting Authority of Ireland (BAI) for the operation of the Broadcasting Funding Scheme, which provides funding in support of high quality programmes on Irish culture, heritage and experience, and programmes to improve adult literacy. Revenue from this fund can be applied for by independent producers and broadcasters for specific projects of a public service nature.

All remaining revenues are paid to RTÉ.
We had the option of signing up for services such as virgin media and Sky TV. In general the broadband and TV packages come together, this is the comparison to the very confusing packages. We brought a brand new MiBox that is pre-installed with Android TV. For now, we decided to go with Disney+ for €8.99 a month on the MiBox. Try out the services first, thinking that there's more content for the kids to watch as they stay at home for the summer holidays. This is a lot cheaper than the cable TV, where I think a lot of it goes to live sports (which I do not watch). I've not used any streaming service till now. We can also install RTE player, which is an app for Irish production and pre-recorded news.
Getting future affairs in order
A colleague asked if we planned to be Irish one day. With my critical skills permit, I can apply for citizenship after staying here for 5 years. She is asking because her boyfriend is going through the process and there are some learnings that she want to share. The main problem for most people is to provide documents that you are a resident here for 5 years. That means me and the wife need to both prove residency In Ireland, this means that you have bills sent to you, a house rental agreement is not enough. And you need to provide bills for all the time that you are here. The main problem is that the wife does not have a bank account so she is finding it hard to get a postpaid phone to have the bills.
So to cover our bases and prepare for any need in the future, my colleague is recommending that we add both wife and my name to the broadband subscription. Whatever we can "share" ownership, we should try to do so.
We also want to get the post paid phone, mainly because it is cheaper. But she has to get her own debit card with her name on it, she cannot use mine. So she applied for Revolut and applied for their card. After that we will use that card to get the post paid phone line (hopefully they accept Revolut). That way she will also get her own phone bill.
In case you are wondering, there's no thoughts of being Irish for now. It sounds like a huge commitment and we are not sure whether we liked it here yet. Perhaps we would not survive winter.