Almost homeless
This is it! The final week for us in the temporary accommodation. My relocation package only funds temporary accommodations and a car for 30 days. Within the second week, my relocation agent already found me a rental apartment that I accepted sight unseen. Now we are waiting to get the green light to move in. Unfortunately, this is also the Easter weekend with Monday being a bank holiday. It was on Thursday that they confirmed, we would not get the house in time due to the bank holidays as there's still things to do to reset the house for me (mainly paint job and some fixes). My relocation agent (from Dwellworks) sent emails to the main relocation lead in a company called Sirva to extend my relocation package for a few days. The budget was immediately approved, since they understand it's a bank holiday on Monday. I thought that means I get to stay a few days more in the temporary accommodation and left it as it is.
So on Friday, when everyone is looking forward to the long weekend, and preparing to stay a few more days when I was told the temporary accommodation could not extend my stay because they are fully booked!. Panic sets in as that would mean I could be *gasp* homeless for the weekend. We did look around ourselves for some hotel to stay but very confused and lost. There are hotels, we don't know which hotel to pick and the prices are high due to the holidays.
Thanks to the wonder of relocation agents, the temporary accommodation company booked us into a hotel, that we later found out just down the road. We walked down to check out the place and plan how to get there.
You see the trouble us that we have brought about 4 luggage with us on the flight and some hand carry bags. Along the way, we also bought stuff when we were at the temporary accommodation thinking that we will immediately move to the rental apartment after this. All the stuff, cannot fit into our small car with the people inside. We tried, definitely cannot.
This is also the time that we had to think differently since we are definitely out of our league here. We then realized since we manage to walk to the hotel from the apartment, that all our belongings will go into the car with driver and daughter (who refuse to walk). Gabriel and I will then walk to the hotel and we will store our stuff in the car, parked in the car park and pray that everything will be safe.
After the short bout of anxiety and solution at hand. We moved into the hotel, spent some money for the buffet breakfast and get the kids all excited over Irish breakfast. The hotel is also beside the LUAS line. So we manage to take LUAS to a few places and they enjoyed the train going pass the room once in a while. The hotel is also beside a pub where we had a dinner there and the food was great! Glad we got the hotel and the change of experience for the few days.
Power bills
The rental apartment is set up with pre paid electricity from a service provider called Pinergy. When I first heard pre paid electricity, I thought of the old Mr Bean show. We reload electricity through the app and shows statistics on the power usage. There is also a home unit that shows the same information. This system makes sense as I don't have to go to a power company to change name and settle any outstanding bills from previous tenant. Was given a card number that I reload against. Better news, woke up today and the govt of Ireland gave 200 Euro of credit into the account.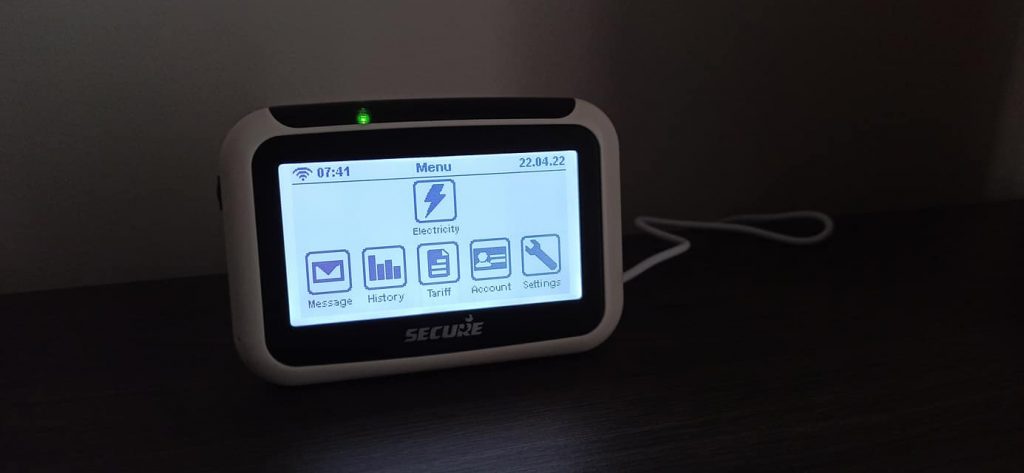 And in case you are wondering, water is free here. Well technically they charge after you hit a certain amount of volume but it's so ridiculously high that it's pretty much free. We still have to register for water account, which is done by the rental company.
Bins contract
Also known as the rubbish collection. This service is by far the most troublesome and weirdest service that we have to engage. We are used to just putting trash out in common bins or those green roller bins in Malaysia. The council will then collect the rubbish pretty much everyday or alternate days. You don't have to subscribe to a service.
Few things that are different here. First there are a few service providers that collect trash mainly Panda, KeyWaste and Thortons. So you first need to find out who services your area. Secondly there is the price list, you pay a certain amount of money for the service that has a limit on how many KG of trash you can throw. Normally it's €20 for about 40KG of trash. It depends on the company, some charge for recyclables and they count overall weight. Some just charge for the general waste. Each bins have a serial number and barcode, apparently the truck will scan the barcode and weight the trash. If it exceed the weight limit at the end of the month, then they will charge you the extra. All through online account of course.
So you really have to think before you throw depends on the system.
The last thing that is weird for us is that the truck comes to collect trash every 2 weeks! We were shocked! Maybe due to the weather, there's not much trash smell. Our kitchen waste stays in the kitchen for one week before we take it outside.
Now for our case, the rental agent sent a welcome pack asking us to call Thortons to set up an account. We called and Thortons said it's not in their coverage area. We saw the bins outside is from Panda and called them, they also say it's not in their coverage area. This is getting strange, as I told Panda everyone in the apartment is using Panda bins. I even sent them the bin serial number and they still say it's not in their coverage area. At this time it is almost one week and we still have not settled the bin account, we have kitchen trash and fingers cross it gets collected somehow. We even had to take the trash and throw it in a public bin once or twice.
All this time I provided the property agent on the update, who we have called and what they said. After more than a week she finally replied to say that the apartment landlord is handling the bin account on our behalf. Meaning that it's already covered in our rent. That was a big relief knowing that we can start to throw out our trash!