Maybe it was just a coincidence. On the same week that I saw the digi sambal belacan Malaysia day ad, my mum dropped by with a tub of her sambal belacan. I ate a lot of sambal belacan when I was young, it goes well especially with fried fish. I have very little of it now mainly because I don't know how to make it and Winnie does not either. I don't think it is the "thing" with her family to have sambal belacan and cut chili in every meal. She thinks condiments are a Penang thing. True also, I don't see condiments served unless asked in Kuching restaurant and weddings.
I realised after watching the Digi and polishing off half a tub of sambal belacan in one sitting.. that I really miss sambal belacan.
What does a man have to do to get feed his addiction.. one way is to keep bugging my mum for sambal belacan once I am out. What I did was to go shopping. Apparently, there are only two ingredients in my mum's sambal. Chili and belacan. Sounds easy enough. I even contemplated on getting mortar and pastel, but I think the trusty blender will do.
First, I come to learn is that I have to roast the belacan. Well, I could put it out in the sun and wait for it to dry, but apparently dry roasting on a pan will work too. However, the house smells of fermented shrimp after that, so be warned. PS: you don't want to come to my house for one week, I think the smell will stay that long.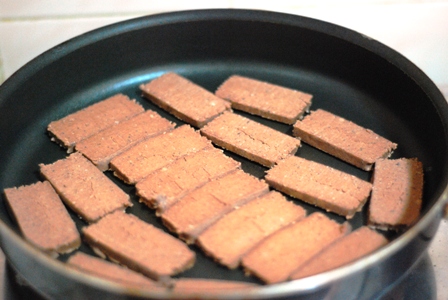 Looks like a lot of belacan but I am not going to use it all. After that, wash and de-seed a lot of chilies.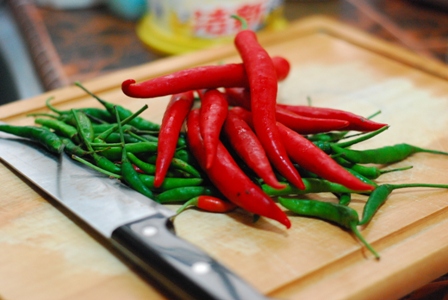 Lagi pedas lagi bagus, masuk pedas.. keluar pun pedas…
After that it is about blending them all together to make a paste. Even my mum cannot tell me what is the proportion as the chilies vary in heat depending on the crop. So it is about tasting. I find this the hardest part because I am direct tasting ground fresh chillies. Yikes. I would like to think I got it right. The colour seems the same as my mum's. Taste also almost the same, as far as I can tell.
We shall see how. Fried fish for dinner one of these days.