Normally when we head out to KL, we tend to stick to the malls. So we eat in the mall, especially the outlets that we cannot get in KL. Chilis was a usual spot till they have one here in Penang. But in KL, there are constantly new eating outlets opening up that Penang cannot catch up.
This time around, we could not make it to the mall in time. Well, we prefer to hit the mall before 11.00 am when the crowd is still bearable. So we decided to stay away from the malls, for once.
Wife found out about Betty's Midwest Kitchen from some blog and she said there are ribs and juicy lucy. We had just watched man vs food at that time and the thought of a juicy lucy is just salivating.
This place is strictly non halal and it is so rare to find a non halal western food these days. Go to the malls and it is always halal. I have nothing against halal food, just that I want to know how pork ribs taste like when they are cooked the right way.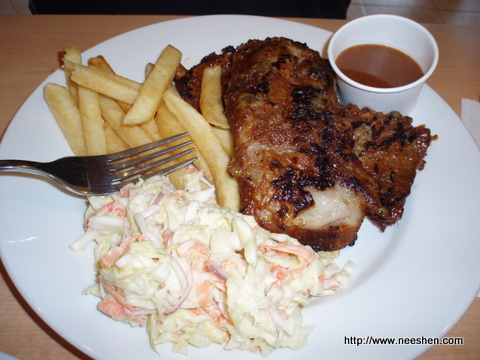 My baby back rib sauce was good, the ribs were so fall-off-the bone tender that I think my grandma can eat it. Just that it has a lot of the soft bone parts that may not be appetizing. But I sucked t he bones clean.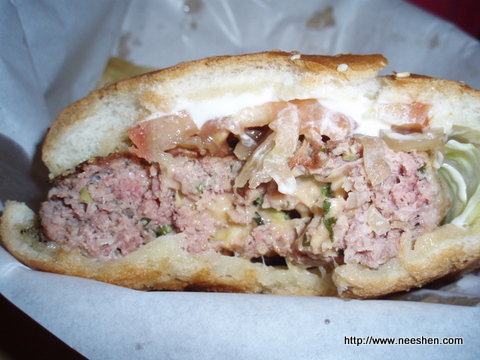 Wife's juicy lucy was good as advertised. Stingy on the cheese but the meat was really thick. If you hate cilantro, like the wife… well you may want to eat something else. The cilantro was a bit overpowering the meat.
We had something called "dog food", fries baked with cheese and gravy. It was good by itself but it killed the appetite.
We were expecting the place to be full and we were worried not to get a place to sit or having to wait hours outside. We were surprised for a weekend, it was just nice. We got a table and while the restaurant was full, no one had to wait. The customers came in and out quickly.
Finding the place was a challenge as it was a new unexplored area for us and the map on the internet was good till the turning from LDP. We just followed our guts and kept driving. The shop is actually facing the ELITE highway.
As with out luck, we found the place in the first try. Will get the wife to update the location of the place and link to some blogs here.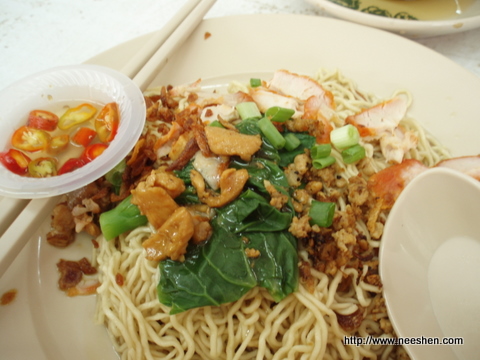 We also went for kolok mee. The sarawak favourite. People keep telling us there is this kolok mee place in Puchong that taste JUST LIKE Kuching. Then I have to go.
As with out luck, we found it the first try. Wife to update the location 😀
As for the noodles, the taste is JUST LIKE Kuching. But somehow the texture of the noodles was a bit off. It is a but crunchy, I might say. Maybe overcooked or under cooked or maybe the noodles were stored too long. Wife says she read somewhere that the noodles were imported from Sarawak.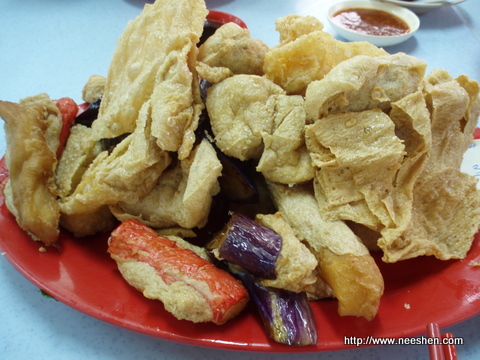 Think yong tau foo and you think Ampang. I wanted to meet up with some old classmates and they recommended me to Puchong Yong tai foo which they swear is better than the Ampang one. That is a tall order but I thought it was a good place to start, since it is near where we were staying. Less time traveling, more time chatting.
My friend was trying to tell me how to get there and his directions made no sense to me so wife decided to google the place and found it. Apparently the place is so famous, it is on the top of the google list. Try it. It is in Batu 14.
Again, found it in the first try. Wife can really read maps.
Wife loves this place and so do I. They put pucuk manis in the soup. What you call the vege in pan mee. Wife loves those stuff. The fried yong tau foo, very crispy and light. Not hard like the ones we normally get. Fluffy is another word I would use. The place is PACKED. Six of us wallop 80 bucks worth of yong tau foo, sat there and chat from 7 till almost 10.. when they are closing.
When you arrive there, take a seat and know the table number. Head down to the counter and pick the vege or things you want stuff. They will stuff the vege / tofu AFTER you pick them. Also, knowing cantonese would be good as I have no idea what they were asking. Apparently they were asking how many tou foo or how many wan tans I want. Not sure what I ratted but who cares. Food came and we stayed on.