It was one of those boring weekdays where we JUST HAD TO GET out of this island. The island seems to be constricting around us. KL is too far and too expensive for us. It has to be a short trip because we only had one day in the weekend to go around. Not worth going to KL. Also because petrol and toll price will kill our wallet. Also  because we are going to KK this month, so no point going to too many places.
Taiping is just nice. One hour from Penang in clear traffic. There is the zoo and the food which everyone raves about but we have not tasted. At least eat in the places where people recommend and so on. So taiping it is then. We were prepared to spend a lot of time in the Zoo, practice taking photographs of animals with the high tech DSLR.
I will save those photos for another day.
Now the food.
Everyone recommends a place or 2 in their blog but for the life of us the last time we went, we could not even find town center! This time, we were prepared though. We surfed some blogs, got google map which was not as informative as we had expected.
We decided on Larut Matang. Well there is this Taiping market that people recommended but we figured that Larut Matang is easier to find. Sure enough, the google map was a bit misleading because of the one way streets. The map was not clear about the lorongs that we have to take. Looking for a place to park was also a problem synonymous with a town center. But after a few turns around Taiping town, we found Larut Matang. A few more rounds to find a parking space. But we were there. The determination was great this time.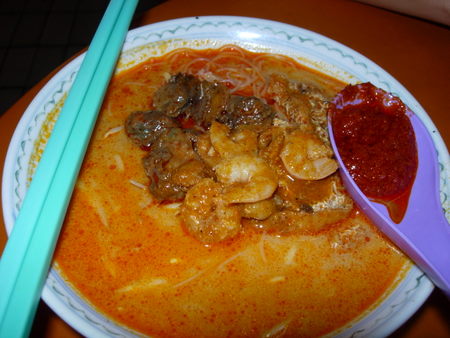 I tried the curry mee. There were so many stalls selling almost the same thing. It was lunch time and we saw a lot of supermarket salesgirls around, we sat around them because they probably know better what to eat. Surrounding us were like 3 stalls selling char kueh tiaw and 3 stalls of kueh tiaw mee. I took curry mee because it is like the only stall around where I sat that sells that stuff.
A lot of cockles and prawns. No pig blood though. I polished the bowl needless to say.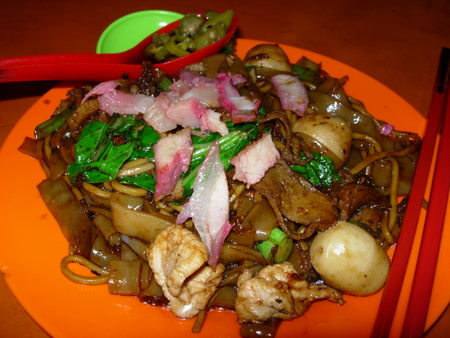 Wife tried the kueh tiaw mee. It does not taste like anything we have tasted before so nothing to compare to. We thought this would be something to eat there because we see a lot of people eating the same thing.
We also ate the ice kacang, maybe we got from the wrong stall but it was not what we expected. Prefer the ones in penang.
Did I eat at the right stall? They all sell the same stuff. I am sure some of them are better than the others. I did not see any stall that has a particularly long line, which normally means that food is good. Haii..
Things there are cheap though. On the way back, we bought some kuih, tapau 2 packets of char kueh tiaw which turns out to be dinner the next day. Also bought some charcoal fired heoh pia for the parents, aunt and grandma. The seller says it is less sweet, which I find so, but Wife says it is still as sweet. On Well.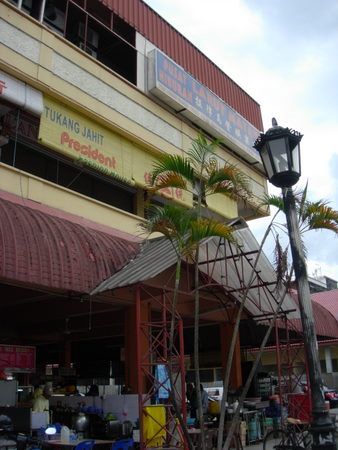 Larut Matang along the "Jalan Panggung Wayang", Cinema Road. There has to be a sense of loniness and desperation for entertainment when you name a road after an entertainment outlet there. I mean, is the cinema there revered as crucial to the society?
We will definately go back to Taiping one day again. This time, we will probably try the market. The bad thing about this whole makan trip is that there is only so much you can eat at only one time.